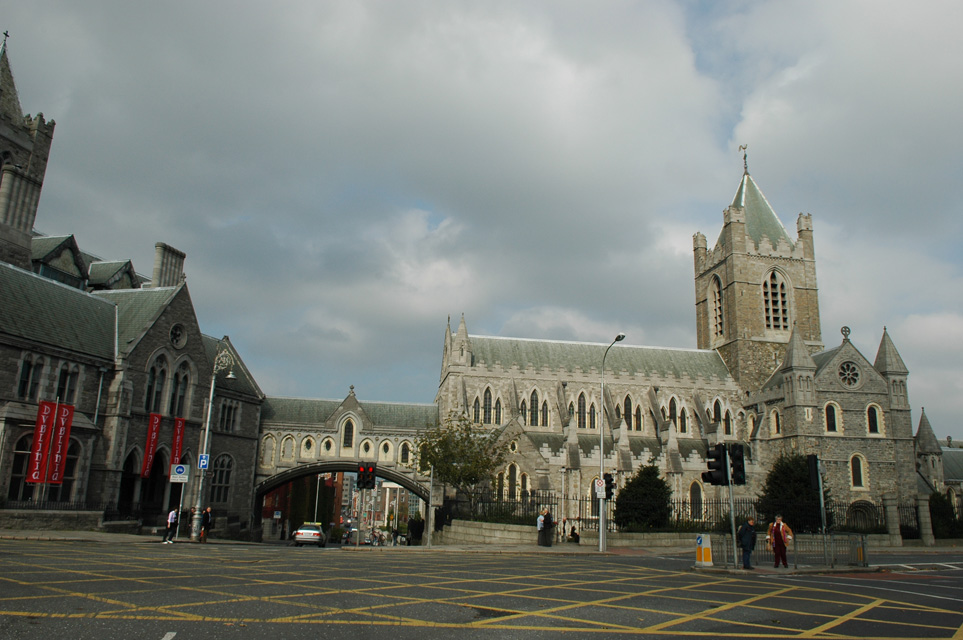 Hey everyone! So our last concert was at Christ Church Cathedral, the oldest medieval cathedral in Dublin, completed in 1038!It is the seat of the Church of Ireland's Archbishop of Dublin. As we noticed during rehearsal, it is a well-visited tourist attraction.
Above is an indoor view of the cathedral's high Gothic arches and ceiling. It was the perfect place for the British Isles choir to finish up our historic tour. I feel lucky as a senior to have sung my last concert in this centuries -old hall.
Somehow we all made it through the final concert despite many tears and singular moments that I will remember the rest of my life. The final concert was everything I thought it would be and more. It was memorable evening to end a memorable tour and a memorable year.
The tour could not have run as smoothly without a few people I must mention!
Our Tour Manager, Lauren VanScoy, from Gateway Tours, was an absolutely essential part of our trip. She kept us organized and on time to our destinations! Our bus drivers Liam, Fergus, John, and John were also an important part of the trip. They scooted us safely around the British Isles and were great story-tellers and friends over the course of the trip.
Pictured here is John and Ruth Ferguson. John, of course, was the principle organist on the tour. He managed to "tame" the many different instruments we encountered on the tour and created beautiful music with us throughout. His wife Ruth was an ever-present help on the trip as well, serving as another pair of ears as we assessed balance before each concert.
Sam Backman '10, assistant to John Ferguson and featured organist himself, was another great person to have on tour. He provided invaluable help to Dr. Ferguson and performed beautifully on Durefle's "Sanctus."
Another essential couple on the trip was, of course, B.J. and Sigrid Johnson. Long- time St. Olaf Choir manager B.J. (affectionately known as Beej to La-La's) as always was at the foundation of the success of this tour. He was always there with advice, instructions, a kind word, and a good joke! He is a life-saver.
Sigrid Johnson, conductor of Manitou Singers at St. Olaf as well as Associate Conductor of Vocal Essence in Minneapolis, served as the all-important "ears" of the operation, assisting Dr. Armstrong with assessment of all things musical on this trip. She was the go-to person for advice on any issues that arose during warm-ups and the concert.
Finally, of course, we cannot forget our beloved Dr. A, the man behind the whole operation.
Here he is, alongside Beej. The importance of Dr. A.'s work in creating this tour and fashioning the British Isles choir into the group that it became goes without saying. He is the teacher, friend, and artist behind (and in front) of it all. Thank you Dr. A for all that you've done for us this year and years past! It was unforgettable.
Thank you to the people mentioned above and to everyone else throughout the tour who helped make this all possible!!
I'd finally like to thank the 2008-09 British Isles St. Olaf Choir for making the end of my senior year so remarkable. It was an exceptional year in the history of the choir, and I am so proud to say that I sung with you all. From the dimly lit halls of Christiansen, to the bright stage of Emory University's Schwartz Center of Performing Arts, to the cavernous sanctuary of Dublin's Christ Church, we've done it all together in a spirit of fun-loving professionalism. I will always remember you!
To end this farewell blog, I've posted a few of my favorite photos from the tour. Thanks so much for reading!
Signing off,
Susan